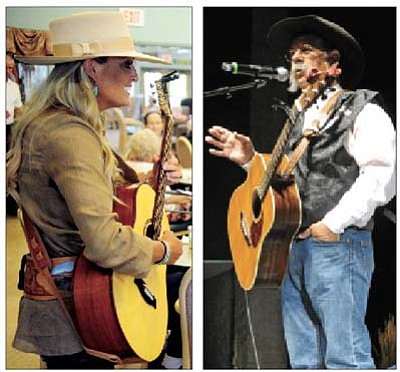 Les Stukenberg/The Daily CourierTrinity Seeley, left, performs at the Susan J. Rheem Adult Day Care Center in Prescott Valley Friday as part of the Arizona Cowboy Poets Gathering community outreach program. At right Randy Huston tells a story at the Yavapai College Performance Hall during a session titled "Working Hands" Friday afternoon during the 28th Annual Cowboy Poets Gathering. Photo by Matt Hinshaw of The Daily Courier
Stories this photo appears in:
Since Thursday, Aug. 6, poets and singers have been reciting verse and crooning at the Yavapai College Performing Arts Center as part of the Arizona Cowboy Poets Gathering. However, the Arizona Cowboy Poets also planned several community outreach programs. One of which was poetry and music in several area senior homes. Trinity Seely and Deanna McCall performed at the Susan J. Rheems Center in Prescott Valley.