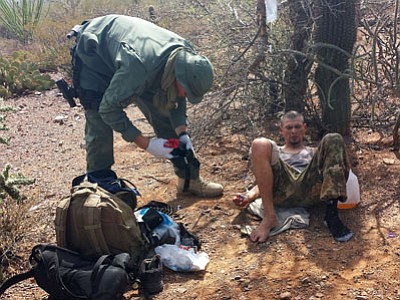 In this June 25, 2014, photo, an unidentified U.S. Border Patrol agent, left, helps an immigrant, including setting up intravenous fluid replacement for dehydration, near Sells, Ariz. The number of migrants who died or needed rescue while crossing the desert from Mexico into Arizona has dropped significantly this year. (Astrid Galvan/Associated Press)
Stories this photo appears in: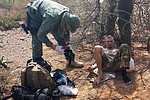 The number of people who died trying to cross the U.S.-Mexico border has dropped to the lowest level in 15 years as more immigrants turned themselves in to authorities in Texas and fewer took their chances with the dangerous trek across the Arizona desert.
By Astrid Galvan
October 23, 2014