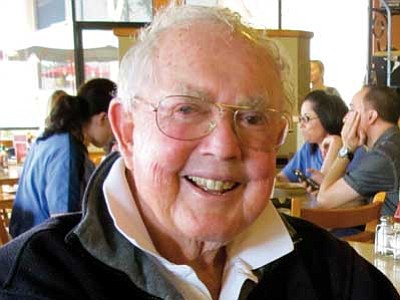 Vic Braden Family/AP
In this May 6, 2014, family photo provided by his family, Vic Braden, a tennis player in the late 1940s and early '50s who became one of the nation's top tennis teaching professionals. He died from complications of congestive heart failure on Oct. 6 at age 85 at his home in the Orange County city of Trabuco Canyon, according to his wife, Melody Braden.
Stories this photo appears in:
"If I'm Only 22, How Come I'm 82," was Vic Braden's last book and a chronicle of his life and times in the world of tennis. Braden died this past week of heart failure at the age of 85. The subtitle of that book was: "Tennis is more than just a sport," and most tennis players certainly wouldn't argue with that statement.