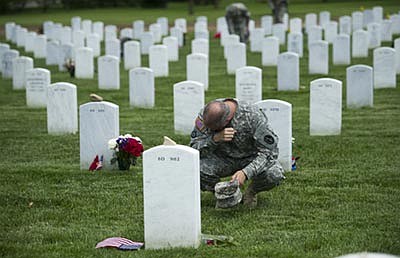 Army Col. Matthew Rasmussen, of the Army Military District of Washington, wipes tears from his eyes while visiting the grave of Army Staff Sgt. Richard Tieman, 28, of Waynesboro, Pa., as he and members of the 3rd U.S. Infantry Regiment, also known as The Old Guard, places flags at grave sites at Arlington National Cemetery as part of the annual "Flags-In" ceremony in preparation for Memorial Day, Thursday, May 22, 2014, at the cemetery in Arlington, Va. Tieman died May 18, 2010, in Kabul, Afghanistan of wounds suffered in a suicide car bombing. (AP Photo/Cliff Owen)
Stories this photo appears in: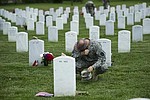 "It is D-Day plus five years, soldier, on this sandy coast where the world hinged on what you did.