Patrick Whitehurst/The Daily CourierFour-year-old students from Pine Grove Preschool and Aftercare eat their lunch while surrounded by their art, which is influenced by a number of historic figures such as Vincent van Gogh. The preschool's annual art show is Thursday beginning at 6:30 p.m. The show is free and open to the public.
Stories this photo appears in: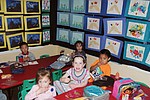 PRESCOTT - Claude Monet. Pablo Picasso. Vincent van Gogh. Jackson Pollock. They all serve as influences for many modern-day artists, even the young ones.