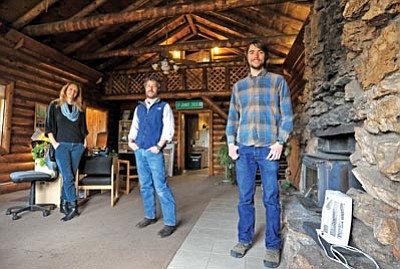 Matt Hinshaw/The Daily CourierPrescott Creeks Outreach & Communications Director Ann-Marie Benz, Executive Director Michael Byrd, and Conservation Coordinator Franklin Dekker pose inside the main room of their new office on Highway 89 Thursday afternoon in Prescott.
Stories this photo appears in: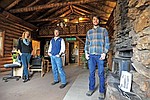 PRESCOTT, Arizona - Through the years, Michael Byrd has often looked wistfully at the rustic log cabin that sits along Highway 89 near the woods that border Granite Creek in east Prescott."I always thought, 'Someday, wouldn't it be great?'" Byrd said of the possibility of securing the building as the headquarters for the Prescott Creeks organization, for which he serves as executive director.