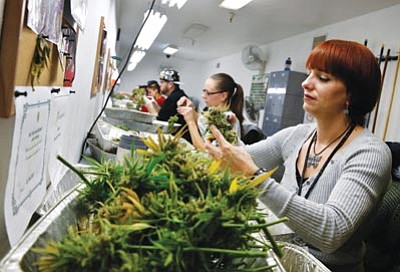 Brennan Linsley/The Associated PressLara Herzog trims away leaves from pot plants, harvesting the plant's buds to be sold at a marijuana dispensary.

Stories this photo appears in:
PHOENIX (AP) - Hunched over a microscope, Steve Cottrell peered at a bud from a plant that is increasingly used as medicine in Arizona and across the nation.He pointed at a computer screen that glowed with a magnified image of the marijuana bud. The sample, the size of a quarter, was covered with powdery white bumps - a mold that was invisible to the naked eye.
By The Associated Press
January 15, 2014