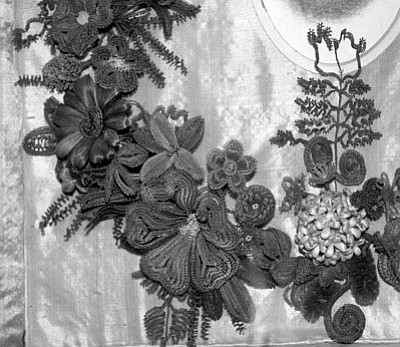 Ken Leja, Sharlot Hall Museum/Courtesy photo
Here is a detail of the human hair wreath located in Sharlot Hall Museum's Fremont House. Many different types of human hair were used to create this memorial to Caroline McCluer.
Stories this photo appears in:

"Oh Rhett - what will I do, I have no paintings, no photographs of you!" Scarlett said between sobs. Rhett answered in a soft confident tone. "My dear Scarlett, do not fret. Let me cut a lock of my hair for you. You can keep it close to you while I am away." Scarlett cried out with excitement, "Oh Rhett I love you! I will place your hair into my locket and keep it close to me always - as God as my witness!"
By By BRENDA TAYLOR
February 2, 2014