Courtesy photo
From left, Jennifer Toth (ADOT), Paul Baca (URS), Steve Pageau (URS), Abe Geupel (Fann Contracting), Alvin Stump (ADOT), Marty Schulte (ADOT), Bobby Lall (ADOT/Horrocks Engineers), T.C. Fish (ADOT), and Amanda McGennis (AGC) pose for the award Fann Contracting Inc. and ADOT received for the Sunset Point Rest Area Rehabilitation project.
Stories this photo appears in: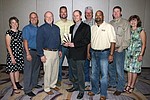 Fann Contracting, the Arizona Department of Transportation (ADOT) - Prescott/Prescott Valley, the Federal Highways Administration (FHWA), and their project partners were recently awarded three separate 2013 Arizona Transportation Partnering Excellence awards.
By Special to the Courier
April 27, 2014