Members of the Veterans Memorial Piper Corps lead the way into the opening ceremony among the 3,000 American flags of the Healing Field at the Prescott Valley Civic Center Saturday. The event included remarks by Mayer Harvey Skoog, Prescott Valley Councilwoman and Healing Field visionary Mary Mallory, and Arizona Highlands Piping Society Director J'aime Morgaine, a piping tribute, reading of the Hotshot Prayer by Deborah Phingston, mother of fallen Hotshot Andrew Ashcraft, and a blessing of the Healing Field by Scottish American Military Society Chaplain Larry Kimmel. The Healing Field will remain open through this week.
TribPhoto/Heidi Dahms Foster
Stories this photo appears in: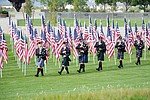 With a backdrop of a 3,000-flag Healing Field posted on the Prescott Valley Civic Center lawn, the annual 9/11 ceremony to remember the victims of the tragedy of Sept. 11, 2001, will take place at 5:30 p.m. today on the stage between the Civic Center and Police Station.
By Prescott Valley Tribune
September 11, 2013