Chris Howard/Courtesy photo
A lifetime of tennis in a bag – from a wood racquet from the '40s to a Prince Tour DB. They tell a story all their own.
Stories this photo appears in: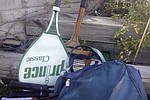 The most basic parts of playing the game of tennis are taken for granted, things like a racquet, the ball, strings, rules and such.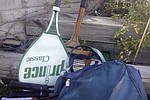 Last week I was teaching a late morning tennis lesson at the college and noticed an older sedan pull into the parking lot. A man got out and went to the back of his car, opened the trunk and after what seemed a long time took a bag from it.