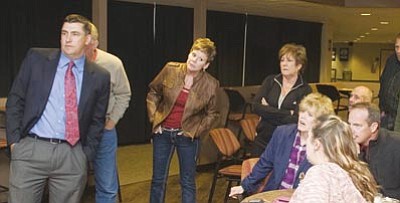 Les Stukenberg/The Daily Courier
Humboldt Unified School District public education supporters look on in dismay at the results of the vote for a budget override Tuesday night.
Stories this photo appears in: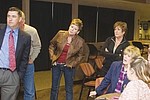 Voters denied bond and override requests for the Prescott Unified School District, the Humboldt Unified School District, and the Chino Valley Unified School District in Tuesday's election.According to unofficial Yavapai County Election results, 53.7 percent of the votes were against a proposed PUSD $28 million bond - with 9,685 votes against the measure and 8,347 for it. Just over 46.3 percent voted in favor of the bond.Nearly 58 percent of the votes turned down the $2.3 million PUSD override, with 9,567 voting against the measure and 7,001 voting in favor of it.