Cindy Barks/The Daily CourierJersey Lilly Saloon's annual fundraiser for the Courthouse Lighting will officially kick off Thursday evening, but donations have already been coming in. Here, saloon owners Tommy and Joan Meredith stand in front of the bar, which displays some of the bulbs listing the donors, as well as the Steve Atkinson painting that will be raffled off as a part of the fundraiser.
Stories this photo appears in: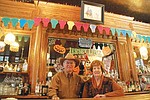 PRESCOTT - Continuing a tradition that began about six years ago, Jersey Lilly Saloon is once again working to pump up the wattage of Prescott's Christmas celebration by raising money for the Courthouse Lighting.