Mountain Valley Splash pool in Prescott Valley.
Stories this photo appears in: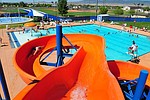 The need to increase use fees for Prescott Valley Parks and Recreation Commission facilities, including Mountain Valley Splash, in the wake of passage of a minimum wage increase is a bitter pill to swallow, but is the logical way to handle the matter, said Councilmember Lora Lee Nye at the Prescott Valley Town Council Work Study Session on Thursday, March 2.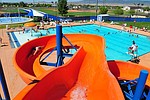 The Prescott Valley Parks and Recreation Department will reopen the Mountain Valley Splash pool at Mountain Valley Park Saturday for use through the summer.