Top, Myron heads back to the trailhead on the Hot Loop Trail. Below, a sign warns trail users to be "heads up." Photos by Cheryl Hartz
Stories this photo appears in: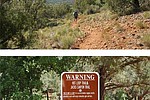 Our original plan for Sunday, May 19, was to hike Humphreys Peak in Flagstaff, after Myron's tennis match. But wind and the thought of too cool temps at high altitudes made us change that plan. So, we headed south a few miles for the much warmer Village of Oak Creek, where we had a tasty lunch at Tara Thai, and I changed from jeans to shorts. We drove out Jacks Canyon Road and found a parking lot and trailheads for Jacks Canyon (#55) and Hot Loop (#94) trails that go into the Munds Mountain Wilderness of the Coconino National Forest.
By Cheryl Hartz
May 24, 2013