A key logger device, like this example, can record (log) the keys struck on a keyboard. The device is often used with covert or malicious intent because the person using the keyboard is unaware that their actions are being monitored.
Stories this photo appears in: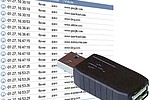 Three boys allegedly purchased "key logger" device to access teachers' records from school library.