Courtesy photoDaryl Davis holds robes given to him by a man who left the Ku Klux Klan after getting to know Davis.
Stories this photo appears in: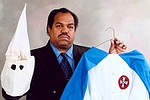 "The Black and White Truth About Racism: Will We Ever Live in a Colorblind World?" is the program title for the next Lifetree Café on Sunday, May 5, at Prescott United Methodist Church.