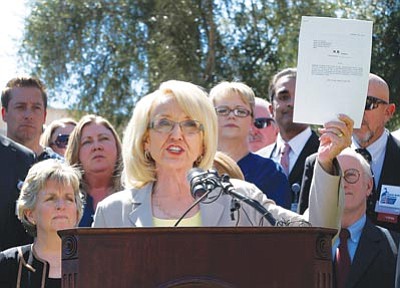 Matt York/The Associated PressArizona Gov. Jan Brewer holds a copy of the Medicaid Restoration Plan draft bill Tuesday at the Capitol in Phoenix. Gov. Brewer is proposing the expansion of Medicaid to about 300,000 low-income Arizonans.
Stories this photo appears in: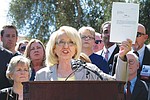 Gov. Jan Brewer appealed to fellow Republicans Tuesday to back her proposed expansion of Arizona's Medicaid program by citing the party's opposition to abortion and painting the issue as another way to protect the sanctity of life.Brewer, who fought President Barack Obama's healthcare overhaul law but now is embracing one of its key provisions, said expanding the insurance to about 300,000 low-income Arizonans will save lives and prevent 50,000 childless adults now enrolled in the state program from losing coverage at the end of the year.
By By Bob Christie<br>The Associated Press
March 13, 2013