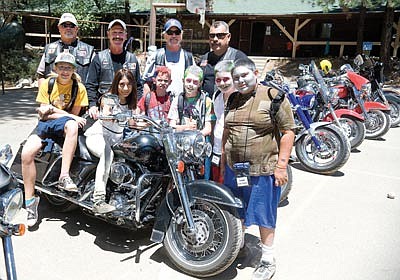 Les Stukenberg/The Daily CourierMembers of the Wind and Fire Motorcycle Club Whiskey Row Chapter, from left, Verde John, Les Roberts, Santa Fe Dave and Charlie Reyes pose with some of the campers at "Camp Courage," the annual Arizona children's burn camp, taking place this week at Pine Summit Camp south of Groom Creek.
Stories this photo appears in:
This is Veronica's first year at the Arizona Burn Camp in Prescott and she said she likes the horses best, because "I have horses at home and ride them with my dad." Yesenia, who has been coming to camp for the past six years, said getting to the end of the zip line was her favorite.