Sharlot Hall Museum/Courtesy photoBig Nose Kate poses with her sister-in-law, Mrs. Alexander Haroney, in the 1930s. Kate's brother, Alexander, had a ranch near Redstone, Colo., and she visited him at least twice at the ranch – once in 1887, as Doc Holliday lay dying in nearby Glenwood Springs, and again shortly before she entered Prescott's Arizona Pioneers Home.
Stories this photo appears in: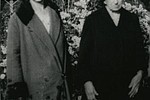 Of all of the wild women serenaded by the famous Earp brothers and Doc Holliday, Big Nose Kate was the first to woo the men who would later find fame in Tombstone.
By By JAN MACKELL COLLINS<br>Special to the Courier
January 26, 2013