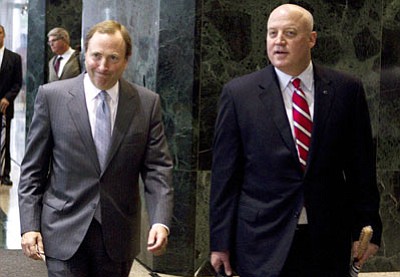 Chris Young/The Associated PressThis Aug. 14, 2012, file photo shows NHL commissioner Gary Bettman, left, and Bill Daly, deputy commissioner and chief legal officer, following collective bargaining talks in Toronto. The NHL got back to the bargaining table Dec. 30 with the locked-out players' association after a new contract offer from the league broke the ice between the fighting sides.
Stories this photo appears in: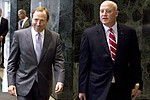 Last year at this time I made five sports business predictions. Some I aced, others I whiffed on. This year, instead of engaging in the fool's game of prediction, I'll list the top sports business stories I'll be watching in 2013 and state my reasons why you should as well.