Cork and Cuisine owner Sherri Cook and Chef John Frazier work hard to ensure a comfortable dining experience for their guests. Don't be afraid to ask questions about the menu – Cook and Frazier encourage patrons to sample the wares and to try new foods.
TribPhoto/Briana Lonas
Stories this photo appears in: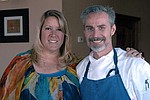 A "foodie" is a person who enjoys new eating experiences rather than seeking to fill one's stomach simply out of hunger. Taking this generic definition one step further, a foodie takes in a meal with all of the senses, having an expectation for a highly palatable, epicurean adventure.
By Briana Lonas
December 31, 2013