Sharlot Hall Museum/Courtesy photoSunday morning inspection at Fort Whipple, circa. 1878.
Stories this photo appears in: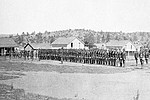 For over a century and half, the United States Army has had a presence in the Grand Canyon State. Scores of forts, cantonments and camps provided military protection, as well as contributing to the local economy and the social life in the areas that surrounded them.
By By JOHN P. LANGELLIER
December 8, 2013