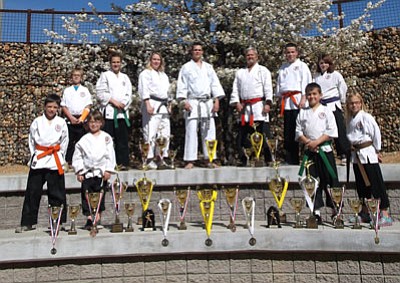 From left, top row: Fisher Plucinsky-2nd Team Kata, 2nd Chambarra, 3rd Koshiki, Mackenzie Donovan-1st Chambarra, 2nd Koshiki, 3rd Kobudo, Renshi Lori Morris-1st Chambarra, 2nd Kata, 3rd Kumite, Shihan Alex Morris-1st Kumite, 1st Chambarra,2nd Kata, 2nd Musical Kata, 3rd Kobudo, Kyoshi james Morris, Jake Duchesne-2nd Kumite, 3rd Chambarra, 4th Kobudo, 4th Kata, Danielle Hamilton-2nd Chambarra, 3rd Musical Kata, 3rd Koshiki, 4th Kobudo. Bottom row- Cosmo Morris-2nd Musical Kata, 4th Kumite, Makenzee Morris-1st Musical Kata,3rd Chambarra, 3rd Kumite, Dylan Donovan-2nd Team Kata, 3rd Team Sparring, 4th Chambarra, 4th Koshiki, Ceiley Plucinsky-1st Chambarra, 2nd Team Kata, 3rd Koshiki, 3rd Team Sparring, 3rd Kata, 3rd Kumite, 4th Kobudo. Not pictured: Memphis James-3rd team Sparring.
Courtesy Photo
Stories this photo appears in: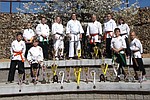 Prescott Valley Karate Champions returned home with six national champion titles and a total of 39 top four placings in the USKA National Karate Championships.
By Special to the Tribune
April 24, 2013