This undated photo shows fig fruits in New Paltz, N.Y. Depicted here are some of the many varieties of figs that do not have the specialized pollination needs of Smyrna figs, so can be grown over a much wider range, even in New York. From left, top row, are Celeste, San Piero and Brown Turkey. Bottom row, from left, are Bethlehem Black and Kadota. (Lee Reich via AP)
Stories this photo appears in: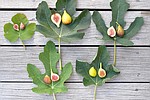 My barely heated greenhouse kept me in fresh figs well into fall, but decreased light and increased cold have made those juicy, ambrosial fruits a mere memory.
By Lee Reich, The Associated Press
February 10, 2017