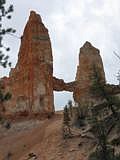 Tower Arch, Bryce Canyon NP
Stories this photo appears in:
Few places in the Southwest match Bryce Canyon for its colorful beauty. More of an escarpment than a canyon, never the less, hiking the Fairyland Loop Trail into the "Canyon" is nothing short of enchanting. This short day hike takes you past stately arches, spooky hoodoos, and a handful of plants that you will not soon forget.
By Ted Johnson
September 11, 2012