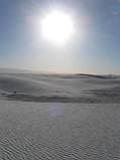 White Sands, Perennial White Christmas
Stories this photo appears in:

Dreaming of a "white Christmas?" How about hiking barefoot through endless miles of the white stuff? When the white stuff is sand, cold but soft and there is plenty of sun, which is white too by the way, you might be interested. White Sands National Monument can make your dreams come true, at least if those dreams involve plunging your feet deep into pure, white, soft gypsum sand. This white stuff does not melt nor are you likely to shiver. With the sun high over head in a clear blue sky, you will feel like you are swimming in white light.
By Ted Johnson
November 21, 2012