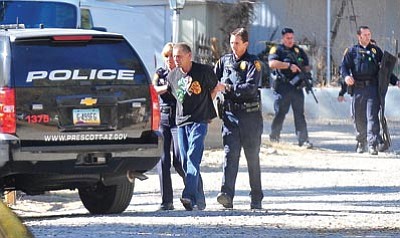 Matt Hinshaw/The Daily Courier
Members of the Prescott Police Department escort a suspect who was involved in a stand-off to a waiting police vehicle at the Thunderbird mobile home park on White Spar Road Wednesday afternoon in Prescott.
Stories this photo appears in: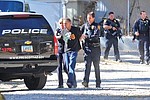 Prescott police officers arrested a man Wednesday on domestic violence charges after a two-hour standoff at the Thunderbird Park Mobile Homes and Cottages in the 700 block of White Spar Road."Around 11 a.m., we saw police cars pull in and we came out here to see what was going on," said Mike Hanna, who works nearby. "They brought out a sharpshooter, and we saw a number of officers head up to the trailers."