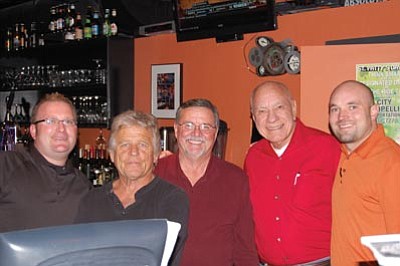 Celebrity Prescott Mayors raised $2,000 at the Prescott Firehouse Kitchen March 7. Left to right are Firehouse Kitchen co-owner Matt Anderson, former Mayor Daiton Rutkowski, former Mayor Rowle Simmons, Mayor Marlin Kuykendall and Firehouse Kitchen co-owner Aaron Meisheid. Proceeds were donated to the Boys and Girls Club of Central Arizona.
Stories this photo appears in:
Prescott area residents turned out in full force March 7 to support Prescott- and Prescott Valley-area kids attending the Boys & Girls Clubs of Central Arizona.