Felicia Fonseca/The Associated Press
This June 11, 2012, photo shows Jeff Hall, director of Lowell Observatory, on the campus in Flagstaff. The observatory has unveiled the $53 million Discovery Telescope, the fifth largest in the continental U.S.
Stories this photo appears in: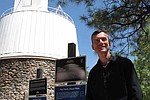 FLAGSTAFF - The northern Arizona observatory where Pluto was discovered has answered the question of whether it would remain active in research or become a museum.
By FELICIA FONSECA
July 22, 2012