Mark Henle/The Associated PressSen. John McCain, right, R-Ariz., and Sen. Jon Kyl,
R-Ariz., speaking, endorse Rep. Jeff Flake, R-Ariz., left, for the Republican Senate primary during a news conference in Phoenix Friday.
Stories this photo appears in: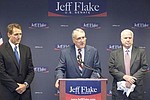 PHOENIX (AP) - Republican Sens. Jon Kyl and John McCain on Friday took sides in Arizona's heated Republican primary for U.S. Senate, endorsing U.S. Rep. Jeff Flake while criticizing his opponent.