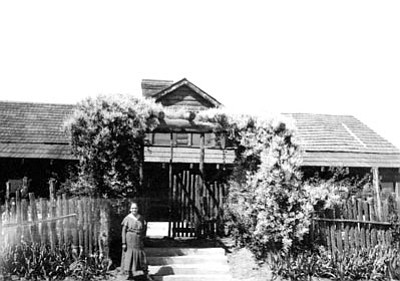 Sharlot Hall Museum/Courtesy photoSharlot M. Hall stands proudly in front of her new "Old Governor's Mansion Museum," in this 1930s photo. Much of the work to make it a museum was done by volunteers and Sharlot herself. When an artist from New York visited the old log house, he found Sharlot on a stepladder scrubbing the logs with a brush and soap.
Stories this photo appears in:
Recently, we have presented Days Past articles about museums in Prescott. Today, and the next two Sundays, we will conclude with our own Sharlot Hall Museum.
By By KATHY KRAUSE<br>Special to the Courier
February 25, 2012