BBNPhoto/Heidi Dahms FosterAngela Teskey Peterson pins the Eagle Scout badge on her son, John Alder, as his stepdad, Scout Committee Chairman Tom Peterson, center, looks on during John's Eagle Court of Honor Sunday.
Stories this photo appears in: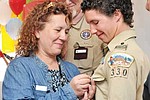 John Alder achieved a big milestone in his life this past year when he completed the requirements to become an Eagle Scout. He shared his accomplishment and basked in the pride of family, friends and fellow Scouts at his Eagle Scout Court of Honor Sunday in Dewey-Humboldt.