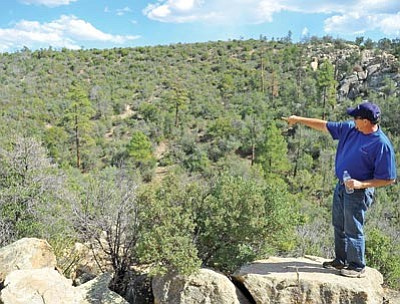 Matt Hinshaw/The Daily Courier
Acting City of Prescott Parks and Recreation Director Joe Baynes points out where a future trail will be built on the City of Prescott's new open space land Wednesday afternoon.
Stories this photo appears in:
Trail connectivity and better access to a well-known prehistoric petroglyph site will be among the benefits that the community will reap from a recent city open space purchase.In a unanimous vote on Tuesday, the Prescott City Council agreed to spend $56,000 for about 30 acres of land at The Preserve subdivision in west Prescott. That will open up a forested and boulder-studded tract of land for a new 1.8-mile section of trail, said acting Parks and Recreation Director Joe Baynes.