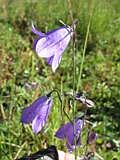 Mystery Plant Hint: Also called Witche's Thimble, this flowering plant grows in meadows between 8,000' and 12,000' and reaches a height of ½ a meter. What is its name, using its shape?
Stories this photo appears in:
With fall just around the corner, it's time to expand our horizons and venture further afield to southwest Colorado where the colors of foliage, fruit, and flowers are nothing short of stunning.
By By Ted Johnson
September 21, 2011