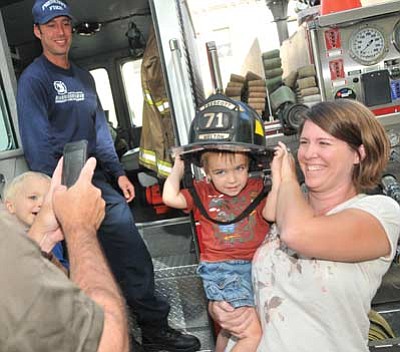 Les Stukenberg/The Daily CourierPrescott Fire Captain Brian Murphy and Jamie Winslow look on as Zachary Winslow gets his picture taken with a Prescott Fire Department helmet before the 9/11 Tenth Anniversary Commemoration on the Yavapai County Courthouse Plaza Sunday evening.
Stories this photo appears in: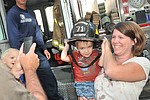 Perhaps the most poignant moment of Sunday's ceremony to commemorate the lives lost in the 9/11 terror attacks was completely spontaneous.A Prescott Fire Department ladder truck screamed by the Yavapai County Courthouse, headed south on Montezuma to an emergency call, prompting the speaker, Laura Molinaro, a retired Commander with the Prescott Valley Police Department, to stop and wait for the siren to fade. When it did, she said, "There they are, folks, your first responders."