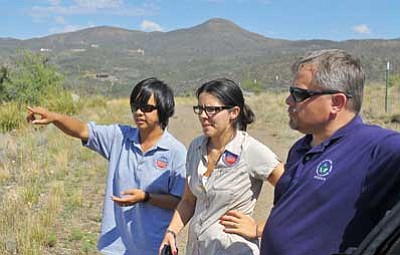 Matt Hinshaw/The Daily Courier
Monika O'Sullivan, left, Superfund Remedial Project Manager, Margot Perez-Sullivan, a Public Information Officer with the EPA, and Jeff Dhont, also a Superfund Remedial Project Manager, talk about the future clean-up of the Iron King Mine and the Humboldt Smelter Tuesday afternoon while touring the sites in Dewey-Humboldt.
Stories this photo appears in: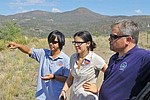 DEWEY-HUMBOLDT - Environmental Protection Agency officials are scheduled to conduct interim Superfund cleanup activities at some of the worst areas in Dewey-Humboldt for seven weeks beginning Sept. 12. The EPA expects to issue a study by the end of 2012 that contains several long-term clean-up options for the entire Superfund site, seek public comment on it, then issue a final plan in 2013. ...