Courtesy photoSharla Mortimer, owner of Mortimer Family Farms, presents 300 pumpkins and a $700 check to Ann Wilson, executive director of the Yavapai County Food Bank.
Stories this photo appears in: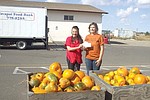 Mortimer Family Farms, located at Highway 69 and 169 (formerly Young's Farm), donated more than 300 pumpkins to the Yavapai County Food Bank on Oct. 25. Earlier that day, Sharla Mortimer and volunteers from the community, including Len Marinaccio and Christian Berry, picked pumpkins from Mortimer Family Farms pumpkin patch.