Les Stukenberg/The Daily CourierCampers at Camp Runamuk play a game of tag as part of the gross-motor skills portion of the camp in Prescott Saturday morning. Families who attend the camp with support staff from the nonprofit Foundation for Exceptional Kids will take part in different therapies, presentations about how to handle behavior situations, find funding resources and take part in crafts, hiking, horseback riding and zip-lining.
Stories this photo appears in: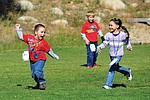 Naomi Edwards, 11, smiled as she showed off the treat she made with frosting and sprinkles on Saturday during Camp Runamuk at the United Christian Youth Camp in Prescott.