Photos.comIf you eat healthy food like salads and grilled vegetables, you can lose weight this summer without having to resort to fad diets that usually don't work in the long run.
Stories this photo appears in: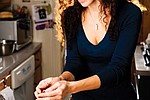 I know, you've heard it a million times: Fad diets don't work - if you want to lose weight, you have to eat healthy. Take in fewer calories than you burn and you'll drop the pounds.You've heard it before because it is true. Luckily, summer is the perfect time to start eating right.