BBNPhoto/Pat Williamson
Ann and Larry Canaday and Trish Rasmussen are all smiles at the Mayer Elders Club Casino night. The event filled the club and all the proceeds will go to benefit Meals on Wheels.
Stories this photo appears in: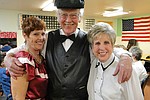 The Mayer Elders Club nearly burst at the seams this past Saturday as enthusiastic folks took their chances at the gaming tables during Casino Night.