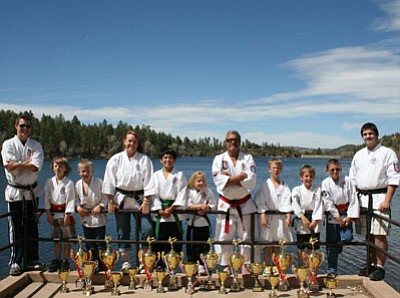 From left: Shihan Alex Morris-3rd Kobudo, 3rd Chambarra, 3rd Team Sparring; Morgan Rodenkirk-1st Kobudo, 2nd Kata, 4th Team Sparring; Harrington Ray-4th Koshiki,4th Team Sparring; Renshi Lori Morris-2nd Kata,3rd Kumite; Tye Garcia-1st Kata, 3rd Kumite,2nd Koshiki; Ceily Plucinsky-1st Kobudo, 1st Kata, 1st Team Sparring, 2nd Chambarra,3rd Kumite; Kyoshi James Morris; Fisher Plucinsky 1st Kata, 4th team Sparring, 4th Kobudo; Trey Snyder- 1st Koshiki, 4th Kobudo; Josh Surdyk-4th Team Sparring- Sensei Travis Roach-1st Kata, 1st Chambarra, 3 Kata, 4th Koshiki. Not pictured Adrianna Andrews, Honorable Mention.
Courtesy Photo
Stories this photo appears in: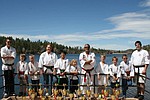 Nine national champion titles returned home this year with the seven students and three instructors of Shinpu-Ren Family Karate in Prescott Valley.
By Special to the Tribune
April 13, 2011