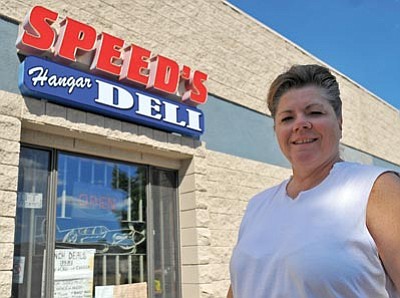 Matt Hinshaw/The Daily CourierDebra Kovacs, owner of Speed's Hangar Deli in Prescott, has been in business for the past 18 years.
Stories this photo appears in:
Q & A with Debra Kovacs, owner/operator of Speed's Hangar Deli at 1030 Sandretto Drive, Suite M. The restaurant is open from 9 a.m. to 4 p.m. Mondays through Fridays and from 11 a.m. to 4 p.m. Saturdays. Call 759-7253 or visit www.relylocal.com/Arizona/Prescott/speeds-hangar-deli.