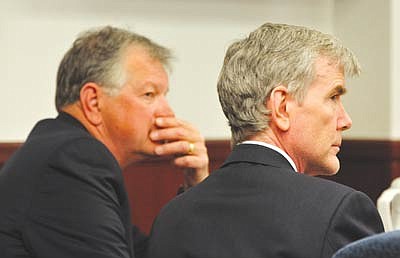 Les Stukenberg/The Daily Courier, fileIn this April 7, 2010 file photo, defense attorney John Sears and defendant Steven DeMocker attend pretrial hearings and motions. Sears and the rest of the defense's legal team got approval from the Arizona State Supreme Court to withdraw from the trial.
Stories this photo appears in:
The state Supreme Court ruled Tuesday that lawyers for murder defendant Steven DeMocker can withdraw from the trial, which began with jury selection on May 4.In its terse ruling, the high court found that defense lawyers John Sears, Larry Hammond and Anne Chapman have "a nonwaivable conflict of interest and should be permitted to withdraw as counsel."The decision will likely result in a mistrial.