Bruce Colbert/The Daily CourierPatti Bell and Doug Keller entertain guests Thursday evening at the Pine Cone Inn in Prescott. Bell and Tim Gray bought the historic restaurant and re-open it at 4 p.m. Wednesday. The owners will employ about 50 people including the nightly entertainers.
Stories this photo appears in: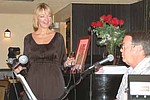 Entertainer Patti Bell and retired golf pro Tim Gray are set to prove the adage, "The more things change, the more they stay the same." The couple bought the historic Pine Cone Inn in Prescott and they are determined to return it to its former glory.