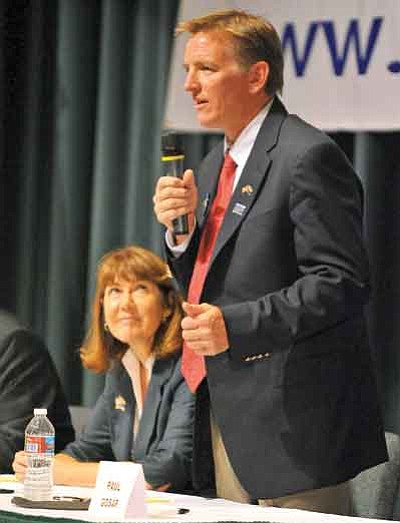 Matt Hinshaw/The Daily CourierRepublican candidate for the U.S. House of Representatives Paul Gosar answers a question while Democrat U.S. Representative Ann Kirkpatrick listens Saturday night at the Yavapai College Performance Hall during a Yavapai Tea Party candidates forum in Prescott.
Stories this photo appears in: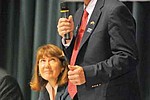 Arizona's First Congressional District candidates answered Yavapai Tea Party questions in front of a packed and lively crowd at the Yavapai College Performance Hall Saturday night.U.S. Rep. Ann Kirkpatrick, a Democrat from Flagstaff, traded answers with Republican general election opponent Paul Gosar, a Flagstaff dentist. Libertarian CD1 candidate Nicole Patti didn't show up. The only other federal candidate at the forum was Independent U.S. Senate candidate Ian Gilyeat.