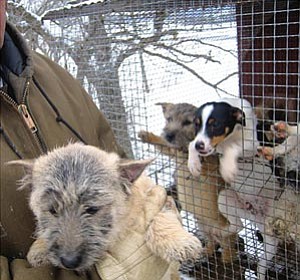 Courtesy photo
At a puppy mill in Wisconsin, the "breeder" wears heavy coat and gloves against the January chill, while pups huddle on a wire mesh floor. "The sight of puppies in cages, outdoors, may upset some people, but it's not against the law," a breeder told reporter Mike Jacobs. "They were outside for a million years. It's only the last 200 that people have been putting 'em in the house."
Stories this photo appears in:
An edition of "Oprah" last year focused national attention on the "puppy mill." Puppy mills provide an unending supply of often purebred puppies to a public with an insatiable appetite for them, an appetite that has created a situation ripe for abuse.