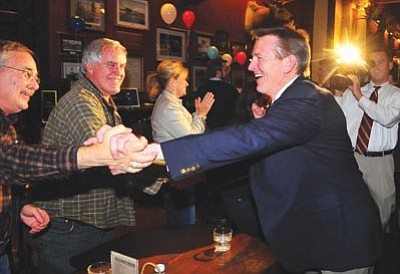 Les Stukenberg/
The Daily Courier
Arizona Congressional District One Congressman-elect Paul Gosar greets supporters after the initial results show him leading over incumbent Ann Kirkpatrick at The Palace Restaurant in downtown Prescott Tuesday night.
Stories this photo appears in: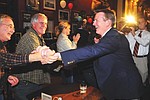 Republican newcomer Paul Gosar handily beat freshman incumbent U.S. Rep. Ann Kirkpatrick by a wide margin Tuesday, riding the Republican wave sweeping the nation.Gosar was among at least 57 Republicans who took seats away from House Democrats, easily taking back the House majority."People are upset," Gosar said in explaining his win. "People want to be heard."