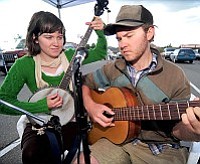 Les Stukenberg/The Daily CourierAnnabeth McNamara and Carlos Bassetti, Fig and Sparrow, perform at the Farmers Market in Prescott on Saturday June 12.
Stories this photo appears in: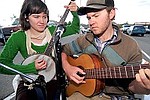 She's young, hip, a great musician and very "green.""I love to sing. It makes me feel so good and free," said Annabeth McNamara, 23, who calls herself "The Green Musician."
By By BRUCE COLBERT
June 17, 2010