After 276 failed attempts scientists successfully cloned Dolly the sheep in 1997. In February 2003 Dolly was euthanised because she had a progressive lung disease and severe arthritis. She is now on display in the Connect Gallery, National Museum of Scotland.
Stories this photo appears in: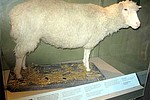 This month the Ohio Senate passed State Bill 243, a ban on human cloning and human-animal hybrids. Because science has advanced to the point where DNA from animals and humans can be intermixed in scientific laboratories a number of states are drafting similar bills.
By By Richard Haddad
June 14, 2010